R. Brovender Tribute Online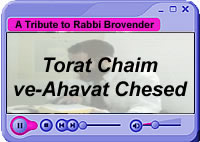 Evening of Tribute to Rabbi Chaim Brovender
Marking 40 Years of Teaching Torah in Israel

Watch, read, and listen online!

Last night in Jerusalem a capacity crowd of almost 400 of Rabbi Chaim Brovender's students, colleagues, family and friends gathered to pay tribute to this remarkable Rosh Yeshiva, his 40 years of teaching Torah in Israel, and his vision for Jewish education.


Click

here

to watch

"Torat Chaim ve-Ahavat Chesed"

-- the 25-minute documentary film surveying the accomplishments and impact of Rabbi Brovender's teaching on 40 years of talmidim and talmidot -- or to dowload the Tribute Book, which was presented to Rabbi Brovender at the event, with contributions from over 130 students and colleagues on the experience of learning Torah with Rabbi Brovender and in his yeshivot. Rabbi Brovender's address at the event: "

Ben Arbaim la-Bina

: Reflections on my Career in Talmud Torah" will be available online in a day or so --

check back online

.