Online Audio: ATID Seminar on ADHD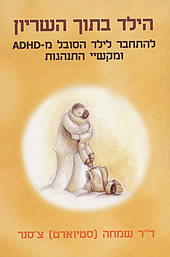 Download Audio or Listen Online
Connecting to the Student with ADHD


Workshop and Book Launching
Connecting to the Student with ADHD
Understanding the Learning Experience from his/her Perspective
Finding Strategies for the ADHD Student to Succeed in Torah Education
Listen online to the teacher workshop (in Hebrew) with Dr. Simcha (Stuart) Chesner exploring his method of understanding ADHD and behavioral difficulties in school. Dr. Chesner guides teachers on ways to understand the student's learning experience, enabling us to be more effective educators.
Recorded at our conference on Monday evening, January 30, 2006 / Rosh Chodesh Shvat 5766
Dr. Simcha Chesner
, clinical psychologist, is the founder and Rosh Yeshiva of Bnei Chayil High School in Jerusalem--Israel's first school catering to the needs of ADHD students. He is also the founder of Matara Institute for diagnosis and treatment of behavioral problems and ADHD. In 1998 he created the "Jacob's Ladder" Center to train educators and therapists to deal with these issues. His approach, NBCD (Neuro-Behavioral Cognitive Dynamics), is used in educational institutions throughout the country. Dr. Chesner is a member of ATID's professional advisory board. Yeshivat Bnei Chayil is a "laboratory" site for ATID's
Beit Midrash Initiative
. Dr. Chesner's newest book, "
HaYeled Betokh HaShiryon
" ("The Child Within the Armor"), will be for sale at discounted prices.